The Youth Urban Agenda/Civic Literacy Project is an international civic education program housed at
Wayne State University
in Detroit, Michigan in collaboration with the City Clerk of Detroit, Wayne County Government and numerous educational institutions. The heart of the program is the process of agenda building as a key method for preparing youth in their role as participants in a democratic society. The program is a means of sparking sutdent interest for learning social studies, civics and communications.
NEWS: Saturday November 15, 2003 Urban Agenda Convention at Wayne State University Download Schedule in MSWORD
Click Here!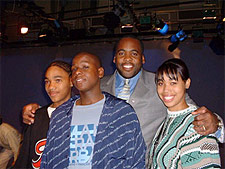 Mumford students Michael Carruthers, Oumar Cole, and Mukaya Hoye pose with Detroit Mayor Kwame Kilpatrick after the taping of the WTVS Channel 56 Mayoral Candidate Interview.
The Urban Agenda functions in multicultural urban/suburban environments and raises key issues of democratic norms and values. The Project has developed curriculum materials and trained teachers in various workships. The project also offers teachers contact with Urban Agenda Resource Personnel consisting of elected officials, community leaders and issue experts.
The project operates in middle schools, high schools, post-secondary institutions and various facets of adult education. The project brings students from diverse areas, cultures and backgrounds together. Students are offered a chance to voice their social concerns in a powerful, public forum. The project also prepares students for standardized testing in social studies while addressing curricular benchmarks and standards set by the State of Michigan.
The project began in 1986 at
Wayne State University
in the Introduction to American Government course. The college-level course was later developed into a high school and middle school social studies curriculum to provide students with practical and theoretical issues of politics, democracy and civic engagement. To date, thousands of students in the Southeastern Michigan and throughout the world have participated in the project.
LINK TO GOV. ENGLER'S "URBAN AGENDA" (pdf)